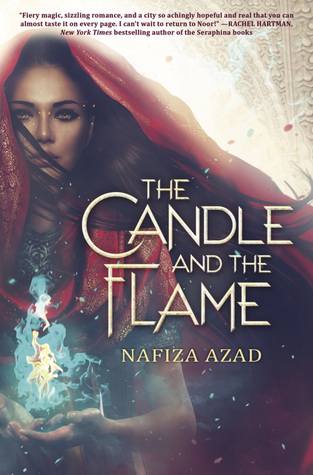 Guest review by Zeba Shahnaz
Nafiza Azad's THE CANDLE AND THE FLAME stars eighteen-year-old Fatima, one of the few human survivors of a massacre in the fantastical city of Noor. Fatima and the city have both worked hard to rebuild in the years since; Fatima has carved a colorful life for herself and her loved ones in a city whose rule is now split between the human royal family and the Ifrit, the djinn tribe of order and reason. When the city's most powerful djinn dies in front of her, Fatima's life changes forever. Before she knows it, she's drawn into palace intrigues with the maharajah's family, and forges a cautious alliance with Zulfikar, the handsome Ifrit Emir of the city, to navigate her new world. But a terrible conspiracy is afoot, threatening to destroy Noor for good, and it may be up to Fatima to save her city – even if it costs her everything she holds dear.
Azad, with her talent for lyrical, evocative prose, combines the elements above to form something a little quieter than we typically see in YA fantasy. In some ways, CANDLE feels almost like a fantastical slice-of-life narrative: rather than letting plot take the reins, she relies on deeply internalized character work to drive the story forward. And what gorgeous character work it is!
As the story unspooled before us, I found myself caring deeply about Fatima and her life, her world, her family, her friends. I could have wandered Noor's maidaans at her side all day. She is a fierce, loving, principled lead character, whose grief and trauma shape her development in a way unlike any I've seen before in YA fantasy. Azad surrounds her lead with an array of distinctive supporting characters, including Zulfikar, a warrior leader with a gentle heart, whose evolving relationship with Fatima is absolutely breathtaking; and Bhavya, the rajkumari struggling to live her own life in the face of royal political pressures. CANDLE has a deep bench of fully realized characters, but at the end of the day, the city of Noor is very much the center of this novel.
Though it's located somewhere on the Silk Road, Noor most closely resembles a South Asian city. And rarely, if ever, have we seen anything like the fantasy world of CANDLE – a beautifully realized Desi fantasy of communal harmony. Azad's imagining of a South Asia without communal strife or violence, still free from the ills of colonialism, is beautiful, hopeful, and, in all honesty, kind of tragic, given the intensification of political, cultural, and religious tensions in recent years across a long-since Partitioned South Asia. Azad's third-person, present-tense style evokes nostalgia for the city even as we're first getting to know it – nostalgia for a fantasy that hasn't existed before, but that we need to believe was (or still is) possible.
Noor is based first and foremost in a North Indian Hindustani milieu – a world whose aesthetics South Asian fantasy loves to reference, but whose significant roots in Islamicate cultures and traditions have been missing in many such works. There is absolutely no ambiguity about CANDLE's Desi Muslimness, though, and the specificity with which Azad captures the nuances of Desi Muslim life made me break out in hysterical, incredulous, holy shit is this real? giggles at times. Finding concepts like halal romance and even Urdu words like chulha in a fantasy novel was enough to make me lose my mind. The gentle, piercing timelessness of Azad's prose immerses us in a cultural and, yes, religious perspective that I have not seen reflected back to me so acutely, in a way that rings so unnervingly but welcomingly true.
As beautiful and hopeful as CANDLE ultimately is, that beauty and hope is grounded in the recognition and remembrance of past horrors, in acknowledging the vulnerabilities you open yourself up to when building connections across cultures and communities – and continuing to do so anyway. It's a message we've seen before, but it becomes poignant and radical here as it rarely has before.
CANDLE is a wondrous pearl of a book, a story about love, loss, destiny, and community that brought me to tears more than once. If you ask me, Azad has pulled off the magic trick that diasporic authors have been trying to do for generations: turn something as ephemeral as cultural memory into something tangible. In THE CANDLE AND THE FLAME, Azad brings us home.
I never want to leave.
The Candle and the Flame is out today from Scholastic!